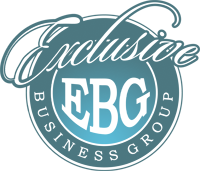 Exclusive Business Group is a business networking group of local area businesses in the Goodlettsville, Hendersonville, Madison, Nashville and Middle Tennessee areas. We meet every Tuesday morning to share ideas, network and generate leads. Please see our new schedule.
We accept only one type of member per profession/business category into our group (i.e., one Landscape Company, one Mortgage Broker, one Website Developer, etc.). This allows each business category to gain exclusive leads from our fellow members.
With an EBG Membership, you can accomplish the following:
Build stronger and longer-lasting business relationships.
Engage in weekly interactions to promote business growth.
Develop an external sales force from your other business contacts within the group.
Advertise your business inexpensively with multiple links to your business on our website.
Please see our list of EBG Members. Check us out and see if membership is right for you and your business. Then, contact a member to be invited to visit.
Review our Visit & Join Page to learn more, and to find out how to get invited to visit our group.